Are you a globetrotter or do you want to be one? Is your dream to spend a certain amount of time in a country as a digital nomad and then go to the next one? Do you also want to work remotely but a word keeps popping up on your screen? And that word is visas… Luckily, the world is changing, and digital nomads are getting more and more attention from a legal perspective. A relatively new thing is the idea of a digital nomad visa. Until this particular document becomes a norm, you still have a few options to travel and work at the same time.
Do you need a visa to work remotely?
1. The complexity of the digital nomad visa
You're a digital nomad or wanna be one. In either case, you must learn about visas. We know, it's like a Kafkaesque bureaucratic nightmare sometimes. Especially because the legal framework is missing. People tend to say that travelling and working remotely (either as a freelancer or an employee) creates a grey area. So you may not even know that working from a tropical country is, in fact, illegal – yet you cannot really apply for a digital nomad visa. At least not yet.
Just by doing a quick search on Google, you'll see you're not alone in this situation. The best advice we could find online was that keep yourself that you're working when entering a new country. However, we would encourage you to read up on the legislation of the country you're planning to stay for a shorter period of time.
The good news is that some countries have started taking the initiative to create the necessary legal framework and keep up with all the technological developments. If we can believe the statistics, around one million people lead the lifestyle of a digital nomad worldwide. So you and other digital nomads deserve to be taken into account and given certainty just like anyone else.
We also hope that you respect the country and its people wherever you go!
2. The birth of the digital nomad visa
In 2018, the most exciting news for the digital nomad community came from a small European country called Estonia. If you work in the tech industry, you need no introduction to this Baltic country. Despite its size, Estonia has become a hub for start-ups and everyone working in the digital field. And then last year, they gave another reason why digital nomads should definitely consider Estonia as a destination.
It is expected that their digital nomad visa will be launched this year. With the visa, you and other nomads could legally reside in the country for 365 days and will also be entitled to a Schengen visa. You could visit the Schengen member countries for up to 90 days. The other important factor of this historic (or should we say epic?) digital nomad visa is that you must be a registered taxpayer in your country of origin or permanent residence. The next step for authorities in Estonia is to explore ways that allow digital nomads to have access to public services in the country.
We do hope that you are as excited about this as us. We just want to pack and discover Tallinn (Estonia's capital) right away!
3. Visa-free countries for UK, US, Australian and Canadian citizens
There are almost 200 countries in the world today. And if you're a citizen of the UK, the USA, Australia or Canada, you can visit many of them without a visa. But we bet that you haven't even heard about many of them yet. But it's never too late to learn something new and useful, right? Here come 5 countries you could reside in for a certain period of time.
Albania
The Balkans has a complicated history. We won't get into that. However, we kind of assume that you don't know that Albania's landscape can be breathtaking. If you're American, you can admire it for up to a year without a visa. If you're an Australian, Canadian and UK citizen, you can spend 90 days there, within a 180-day period visa-free.
Argentina
South America is just like the Balkans. You could learn about it by settling down in Buenos Aires for a while. As a Canadian, US American, Australian or UK citizen, you could spend up to 90 days without applying for a visa in Argentina.
Mexico
Rattling rhythms, vivid colours, and ancient ruins being silent about their history. This is what awaits you in Mexico City, Monterrey, Guadalajara, and other parts of the country while also working remotely. Australian, Canadian, UK and US American citizens can spend 180 days in Mexico without a visa. Your passport should be valid for 6 months from the date of your departure.
Romania
You may count the days until your next trip to the Mediterranean, but let's talk about the Black Sea now. By car, it's not even 3 hours from Bucharest, the Romanian capital. Without a visa, you would have 90 days within a 180-day period to discover the hidden gems of the country. Then you could tell amazing stories to fellow Australian, Canadian, US American and UK citizens.
Singapore
It's a state but also a city, or is it a city that is also a state? Well, it doesn't really matter, as Singapore usually ends up on the list of the best places for expats. This financial hub welcomes Canadian citizens for 30 days visa free in the country. US American, Australian and UK citizens can stay for up to 90 days.
Which country would be your next destination?
4. The best places to work remotely for digital nomads
Hop on and off a train, a plane or even a ship has become a natural yearly or even monthly activity for digital nomads. Living out of a suitcase may be tough but also rewarding if you also prefer to travel and work remotely – or work as a freelancer with international clients. But what are the hot spots for digital nomads (mostly US American, UK and Canadian citizens)?
Colombia
If we think about this South American country, the first person that comes to our mind is Antanas Mockus, the former mayor of Bogotá. He worked hard to make the Colombian capital more bike-friendly. As a digital nomad, we imagine you as someone who likes cycling: it's cheap and environmentally friendly. There are no particular visas here for digital nomads but you can apply for three types: TP-7, TP-11, or TP-12. With all three, you can stay legally in the country for up to 180 days.
• TP-11: With this one, you don't have to specify why you're in Colombia. It's more for leisure.
• TP-12: It's for you, if you're a journalist, for example – or want to participate in social and cultural activities.
• TP-7: This type of visa is more about doing trade and business in the country.
Bali
If the Indonesian island is on your bucket list, the great news is that you can apply for an extended visa on arrival. This applies to American and Canadian citizens and others worldwide. You need to pay a fee to get it but that will allow you to spend up to 30 days enjoying the sunset and sunrise from the beach. It is possible to extend the visa later on.
Thailand
This Southeast Asian country attracts both tourists and digital nomads. The weather is amazing and the beaches are beautiful. There have been some discussions on the waves of digital nomads entering the country, which then led to the launch of the SMART visa. Unfortunately, this is not what you can apply for unless you have a contract with a Thai company or a foreign company with an assignment in Thailand.
For digital nomads, the easiest way to stay in the country for 190 days with a short break is to get a Double Entry Tourist Visa. You can apply for it for 60 (or 90 days with extended time), visit a neighbouring country shortly, and come back for another 60 (or 90 days).
You need the following to apply for this kind of visa:
• Have a passport or legal travel document valid for at least six months.
• Complete the visa application form.
• Attach a 4x6cm photo taken of you.
• Show a paid round-trip airline ticket.
• Submit proof of financial means. (20,000 baht per person or 40,000 per family.)
• Pay the processing fee of 2,000 baht (You can pay it in the local currency from wherever you are • applying.)
Please note that working as a digital nomad in Thailand is technically not legal. In the past, there were a few cases when the police raided co-working offices. The best is to not promote you're working there. Or try to get the SMART Visa and stay a bit longer. Highly skilled people working in the digital field could apply for it.
Germany
Do you remember the film The Love Bug with Herbie the adorable Volkswagen Beetle car? Well, you might be too young, so we give you a hint. Herbie was German. Of course, this is not a real reason to go and work remotely from Berlin or another German city. But the freelancer visa is. And if you manage to be granted this, you can also apply for a Schengen visa to be able to travel to other European countries.
What do you need to get a German freelancer visa?
• a registered address in Germany (you probably need a bank account)
• health insurance (not travel insurance)
• proof of work (portfolio, business documents, etc.)
• maybe speaking a little bit of German
• etc. (Look it up!)
Remember: you'll be paying taxes in Germany!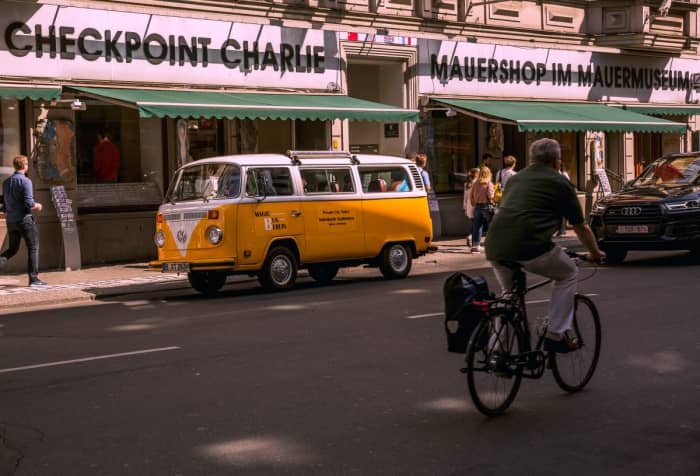 Photo by Luca Bracco on Unsplash. Berlin is a mecca for creative people
Portugal
As a freelance digital nomad, you can consider applying for a self-employment visa in Portugal. You need to either work with local companies or try to do some business with them. With this visa, you can stay in the country for a year and can also visit other Schengen countries. You could have your base in Lisbon. Keep in mind that you'll pay taxes in Portugal.
Summary
Once upon a time, it was unimaginable to find a freelance job anywhere in the world. Today it is one of the most common things. On Appjobs.com, more than a dozen of freelance platforms are listed, which you could sign up for regardless of where you live. Working on short-term projects remotely could help you and other digital nomads save enough money to live for a longer period of time in the country you're currently residing.