Meet Mike.
Mike is a freelancer but earns around double the amount you make in a month. He hasn't got a PhD or worked for a Fortune 500 company. How is Mike earning this income: is he doing something illegal? Does he have a strong network that has led him to high-income opportunities?

He managed to utilise the power of the gig economy: the industrial revolution of the 21st century. Mike has two highly sought after skills – communication and manual skills. The flexibility he gains from task-based work allows him to make the most of his skillset.

Here is an example of a typical work week for Mike:
Monday – Thursday: doing deliveries for UberEats and Deliveroo
Friday: hosting a dinner party with Host-Chef or Withlocals.

Saturday-Sunday: rents out his apartment while he goes to visit his parents and pet sits while visiting his parents.

Mike has also set up a YouTube channel. He teaches viewers how to excel in making money with apps; earning revenue from ads and affiliates with promotional partners. He may not have taken a traditional career path but there are still many possibilities for him.

While the traditional path offers a sense of security and stability, there is still the possibility that your contract could be terminated and leave you with nothing: all your eggs were invested in one basket. However, by putting his working efforts into multiple projects, he has created his own security with many opportunities to fall back on.
Mike is living in a new working age: From sharing economy to gig economy
If we go back ten years, Mike's work would not be possible. Enter Airbnb and Uber: rebranding the way we use transport and accommodation.

These companies gave the opportunity for anyone to become a taxi driver or to turn their home into an accommodation hotspot- this was the beginning of the sharing economy. The name for this kind of economy has evolved, with researchers unable to decide on a name for this new phenomenon, with the majority settling on the term "gig economy".
Reconsidering Gig Economics
There is confusion surrounding gig economics. For most, if you ask them what they associate with the "gig economy" they will have an image of workers in unstable, short-term assignments and no protection. It goes hand-in-hand with employers wanting to reduce costs by hiring temporary help rather than a full-time workforce.

The truth? The gig economy is simply the dawning of a new technological era. Earlier in the 20th Century, economist Ronald Coase researched the reason why firms need to organise their economic development: the simple answer, due to transaction costs.

It is more efficient for a company to organise their workforce through organised specialist structures rather than searching in the bottomless pit of the open market.

Let's demonstrate this example with a taxi driver, working in the 20th century. To get customers, a taxi would need to circle around a city to find clients while competing with other drivers. As the driver drives around the city, his is wasting fuel and he begins to question his ability to make a living as a driver.

If we look at this in Coase's terms, the transaction cost of being an independent taxi driver in the open market is astronomical. However, if the taxi driver joined a taxi firm, he would only be going out when there is the guarantee of a paying client- this makes the process more efficient and cost-effective for a driver.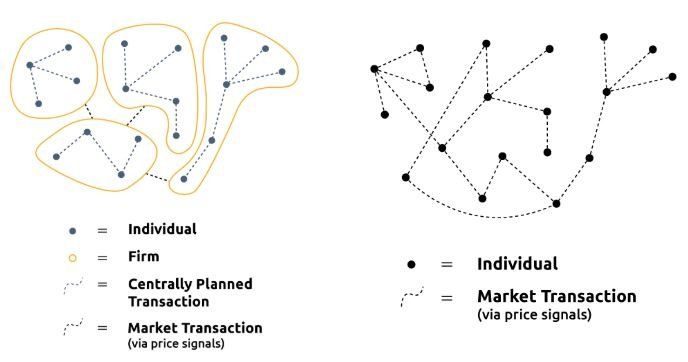 However, with the development of new technology, these issues are being resolved one by one. Today, 2.7 billion people use mobile applications, whether that be on a tablet or phone. There are also more than 5 million apps available on iOS and Android.

Combine this with the fact that 57% of the entire planet use the internet in their daily life, you can see a real revolution on how we go about our lives: from the way we stay in contact with loved ones to the way we find the next step in our career.

The increase in internet usage and the growing number of interactions that take place through smartphones and mobile apps, the costs that come with being an independent worker decrease dramatically. Technology is outperforming firms when it comes to allocating work efficiently.

So, what would happen with the 20th-century taxi driver? They would become an Uber and Lyft driver, downloading the apps and receiving a steady flow of paying customers all while being able to remain independent.

This revolutionised economy is no longer about having to share or about gigs: it's about a future where low transaction costs have opened up new avenues of work without the need for a conventional structure. Therefore, we should really be referring to this not simply as terminology, but as a process- the "new way of working".
Tinder Economics and the future of job seeking
Technology is enabling unlimited consumption thanks to reduced transaction costs: from unlimited TV shows and movies on Netflix, unlimited music on Spotify and even unlimited dating possibilities through apps like Tinder.

You could say that finding your perfect match used to be an expensive and exclusive concept. It usually would have involved finding a possible candidate who isn't too far away and most likely you met through your social circles. You'd then invest your time in getting to know them, and even make a financial investment in the form of dinner dates.

Success would result in a great reward, a partner for life.
In this new age, Tinder reduces the transaction costs that come with finding your perfect match. There are limitless possibilities available for the picking, without the restriction of geography and your social circles.

Swiping left or right means users can essentially try out as many suitors as they want in a short period of time with a constant flow of opportunities.

We can also apply this concept to the world of work. The lower transaction costs gives rise to a multitude of jobs and job providers they can access with only a few clicks. Workers are no longer constrained to the traditional forms of application, such as CVs and cover letters. Workers of the new age can work more flexible hours to fit around their lifestyle and find more opportunities locally.

The future of work is on-demand, unlimited work powered by technology.

Many have become critical of the speed of development within the technological sector: with the usage of AI and robotics. The belief is often held that technology will be taking away our jobs, but the fact of the matter is that this isn't the case.

Statistics show that there has been a major increase in the number of job market opportunities over the last ten years (which coincides with the beginning of the Future of Work). Also, it can be seen that the usage of smartphones has amplified people's abilities in the job market and gig economy: with the ability to review and apply for jobs becoming ever simpler, there is no question as to the possibilities that lie ahead.
Addressing the problems with on-demand work
As great as this new age is, not everything is plain sailing. This new way of working has received a lot of criticism, especially about workers' rights. Companies that are using on-demand workers have been accused of unfair wages, benefits and taking away financial stability for workers.

App-based work has some costs: covering your insurance expenditures, no fixed holiday times, there is the possibility of working unlimited hours and no guarantee of a stable income.

It has also been argued that app-base work is a scheme by companies to avoid the taxes that come from a traditional payroll and removing the need to stick to union regulations by redefining workers.

These issues shouldn't overshadow the benefits: think back to the industrial revolution 150 years ago, there were many issues similar to those that occur with app-based work, however as it progressed so did the regulations and safeguards.

The best term for the future of work is "Ironman Economics". In the same way Ironman tailored his suit to adapt to the different challenges that came his way, the worker of the future uses his smartphone to amplify his abilities and truly utilise them.

It is not only the availability of the hardware now that makes this a possibility, but also the business models that follow suit that make the employee more control.

We are currently only 10 years into this technological transformation, but there is still a long way to go: imagine where we will be 10 years from now.

This future of technology gives us a new platform for our skills, which amplifies our abilities to the wider community. If we all channel our inner Ironman, we will have the ability to venture into a new frontier of endless opportunities.