The coronavirus pandemic is changing normal business practices for industries around the world. One sector that has been particularly hit hard is the entertainment industry, which relies heavily on live performances to generate revenue.

With everyone forced to social distance, isolate and avoid large gatherings, entertainment workers have felt a series of knock-on effects. From performers to production assistants, the entire industry is being forced to reinvent itself to make ends meet.
The Current Situation in the Entertainment Industry
Let's break down a few different parts of the industry, and how each is being uniquely upended by the pandemic. First: film and television.

Filming major motion pictures and television episodes is no easy feet. A full-length film can take up to 3 months to shoot. In that time, a small army joins together to create the final product we see on our screens. Plus, on these sets, time is of the essence, requiring quick and efficient work from everyone involved to minimize shooting and reshoots.

That means there are a lot of people constantly running back and forth in close proximity to each other. With strict social distancing measures in place, these kinds of productions become nearly impossible to achieve.
Beyond the principal photography and production challenges, the closure of movie theaters around the world has Tinsel Town looking at a $20 billion loss in revenue this year, according to the Hollywood Reporter.

Meanwhile, while television ratings are up, advertising revenues have all but dried up thanks to the broader economic downturn. Overall, the trend of consumers cutting the traditional TV cord is only accelerating with Netflix adding nearly 16 million new subscribers in the first quarter of 2020 according to its earnings report. This is causing a major shift in which projects are greenlit and how they are funded.
Impacts to the music industry are stark.
The global live music industry is worth about $27 billion, and is effectively shut down indefinitely. Musicians do have the opportunity to earn some income from streaming services; however, revenue margins are quite low. Most musicians make the vast majority of their income from live performances. In fact, some estimates claim an average artist owes 70% of their income to live shows.

Much like the film productions, live music performances employ a massive amount of people. All of them are being forced to rethink how they can bring their craft to billions of people stuck at home, with a mobile or computer screen as their only way to interact.

Let's not forget about the performers and crew who work in purely live settings without recording – like theater groups, symphonies and more. While some theaters, like those in London's West End, are experimenting with reduced crowds to employ social distancing measures, it means even thinner revenue margins due to reduced ticket sales.
77 % say they will be pulling back their spending on going out
The graph below shows how consumer spending in the US is being affected by COVID-19. While purchases of groceries and at-home entertainment are definitely up, out-of-home entertainment purchases (think movies, the theater, sporting events and concerts) are down a whopping 23 percent.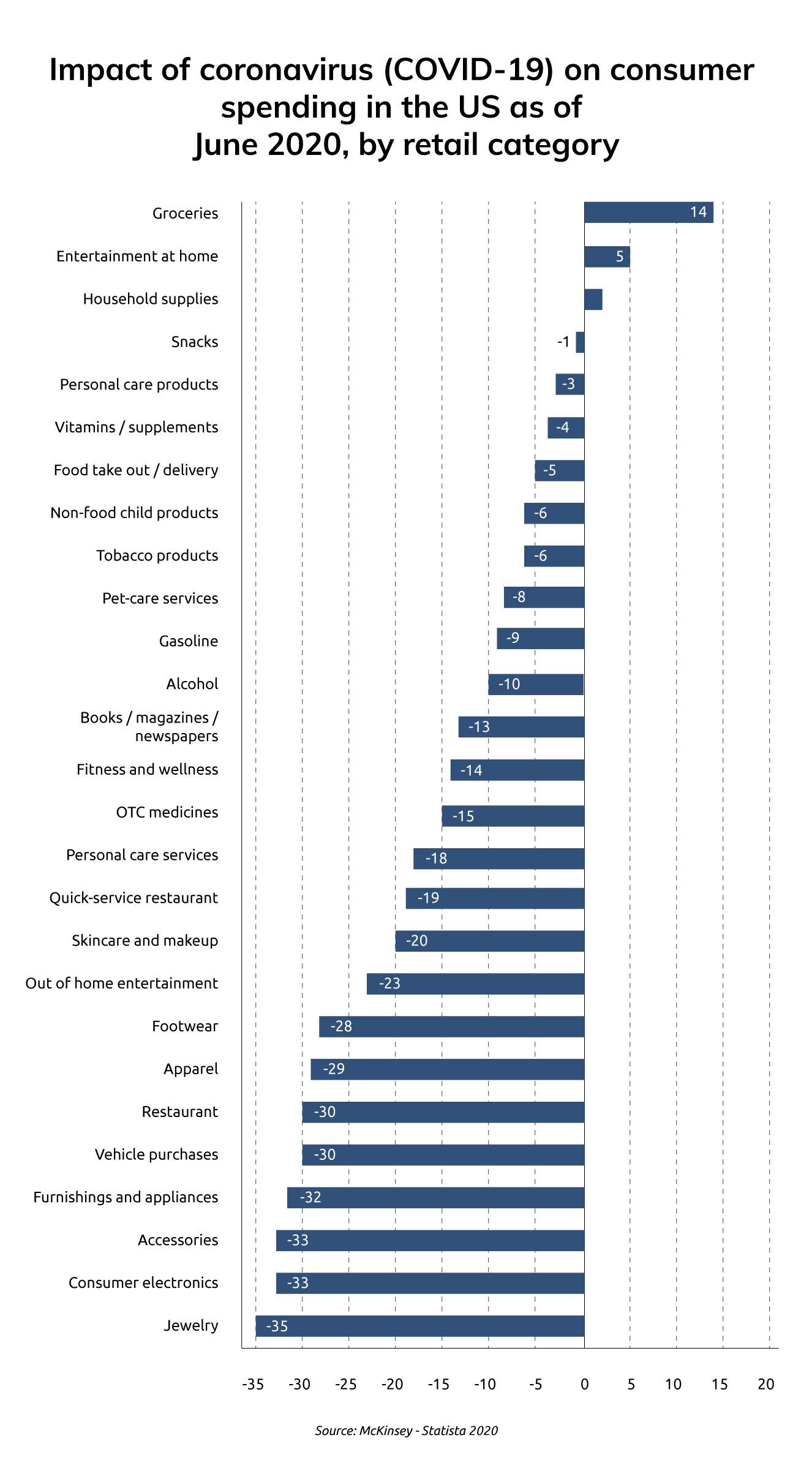 Displayed in the table below are the percentage of Americans who will definitely be spending less on different products and services due to COVID-19. As you can see, 77 percent of people say they will be pulling back their spending on going out.New Paragraph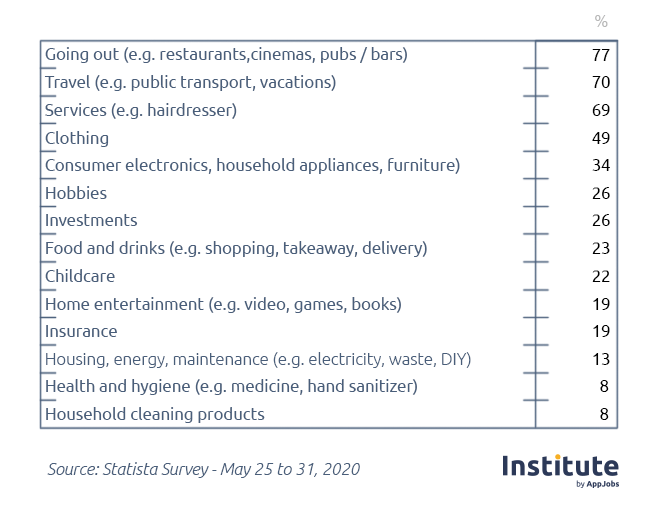 Who Were Affected By the Coronavirus?
As mentioned above, there are a wide range of people whose expertise goes into creating the content we love. When it comes to visual arts (film, television, etc.) we often think first of the actors.

Many of us find it easy to disregard their economic plight during the pandemic. After all, these people are millionaires right? They have plenty of rainy day funds. In truth, though, the vast majority of actors aren't the A-list celebrities you think about when you hear the word "actor." Many of those non A-listers need to take on side gigs just to make ends meet.

A similar phenomenon exists when we think of musicians. Our minds tend to immediately go to the Taylor Swifts, Beyoncés and The Weeknds of the industry. Just like actors, these instantly recognizable names represent a tiny fraction of broader professional musicians.

There is an entire "middle tier" of the industry that is more under the radar. These are the session musicians who help out in the recording studios, work as backing singers, and more. They can still be found on tours, but most of them are living gig to gig.

Additionally, classical performers — like those in orchestras — often make additional income through side gigs like private music lessons, weddings and more. All of these performers are seeing their normal income opportunities dry up.

And, of course, we cannot forget about the supporting crew members who are vital to any production… video editors, makeup artists, wardrobe experts, production assistants, camera operators, lighting and audio technicians, booking agents and venue promoters, directors, and more.

They are all facing a reckoning in how they can earn income in the immediate-term crisis, as well as the longer term adjustments that the entertainment industry is facing.
Life After Lockdown – What Will It Be Like?
Right now, the entertainment industry is still going through a reckoning of how it can finish and release current works to recoup the initial investments.

Some Hollywood projects are being released to streaming services — like Greyhound with Tom Hanks on Apple TV+, Star Wars: Rise of Skywalker on Disney+, etc. — and some projects like Christopher Nolan's Tenet are being placed on hold indefinitely. This poses an interesting question for the projects being placed on hold: What do we expect the new normal to be?

European and American cities are experimenting with a resurgence in drive-in movie theaters and even drive-in concerts. However, since you can only fit some many people in a one car, and only so many cars in a parking lot, the revenue margins for creating and promoting an event like this are incredibly small — if they even turn a profit at all.

And even these more socially distant approaches will inevitably run into issues. Take the recent Chainsmokers drive-in show in the Hamptons. While the intent to offer entertainment in a responsible way may have been there at first, photos from the event show a crowd of about 2,000 people with little distancing or mask wearing.

Long-term, we may be left dependent on the discovery and massive distribution of an effective vaccine against the virus in order to return to 2019-style music festivals and blockbuster theater releases. In the meantime, what can performers and crew members do to earn some money in the meantime? Perhaps, they will need to turn to the gig economy.
Are Entertainment Industry Workers Part of the Gig Economy?
Well, yes. The vast majority of the industry has always been a part of the gig economy. They've just been under the radar. Most performers take up a myriad of side jobs to pay bills every month. Many also see the industry as the original gig economy, having to constantly audition new roles and gigs.

Hustling for new projects or to get their own pet projects off the ground through outside investment. But with most of their normal ventures disappearing due to social distancing requirements and a broader economic downturn, what opportunities do they have left?
How Can Musicians, Actors and Stand-up Comedians Earn Money During & After the Pandemic
It's truly a struggle out there right now. So, what can artists and performers do to earn some extra cash to keep a roof over their head and pay bills? Many are turning to technology to monetize their skill set and reach their audience.

Musicians around the world have been diving head first into Patreon, which can serve as a virtual "tip jar" into which the audience can donate. Stand-up comedians, especially those who may not be lucky enough to score Netflix deals, are starting their own podcasts with opportunities to support them through Patreon.

Actors and musicians are offering live-stream performances with the opportunity to tip. Some musicians are continuing to offer private lessons and tutoring through the service as well.

Other artists are taking this opportunity to completely reimagine our notions on what a performance or concert can be. In April, the free-to-play, and massively popular, online video game Fortnite hosted a virtual performance of Astronomical by Travis Scott.

More than 12.3 million players logged in across the world to catch the performance. And while the financial details of the deal between Scott and Fortnite's owner, Epic Games, hasn't been revealed, Rolling Stone has estimated that Spotify streams for Scott's tracks rose by 25 percent.
What Real Musicians, Producers and Entertainment Workers Think About This
In order to get a realistic sense of what musicians and entertainment industry workers are doing to make ends meet, we reached out to several people across the entertainment industry.

We wanted to get a sense of what they are working on right now, how they are dealing with isolation, how COVID-19 has affected their work, and what actions they are taking to mitigate income loss. We also asked for their thoughts on the future of the industry. Their lightly edited responses are below.
NOCASINO
A music producer based in York, Pennsylvania
– The coronavirus has sort of leveled the playing field for musicians, in my opinion. With social distancing putting heavy restrictions on live events, smaller musicians have a bigger voice than ever before. The people benefiting from the current state of the music industry are the people with killer social media content.

With everybody having more time to browse Instagram or TikTok, it's more important than ever to be creating content that engages your audience while they're sitting at home staring at their phone. The people coming up with creative ways to incorporate their music and live performance into their social media strategy are the people doing well right now.

A big weakness that the pandemic has shown in the music industry is the reliance on ticket sales. While concerts will probably always be an invaluable resource to musicians, the world is changing. Even before the pandemic, people were deciding to stay home and watch Netflix instead of going out. I'd say part of that is a growing public sentiment against major ticketing companies like Ticketmaster, but I don't think coronavirus will help matters when people start to see their favorite small venues close down.

The strength it has shown is just how resilient music is. I know a lot of people that have decided to use their extra free time to learn an instrument, or to start working on the album they've always wanted to create but never had time. This pandemic is going to spawn a whole new generation of artists, who make beautiful art. I think music is the ultimate way to share your experience with the world, and I think that's important now more than ever.
Anne Leighton
Owner of Leighton Media , a New York City-based company that works with musical artists who need development, marketing or promotional services.

Overnight I've had to realign my job description from tour publicity and finding performance gigs for my artists to using their art to comfort people.

Of the artists on my roster, Sharon Katz & the Peace Train had a range of concerts set this year, including border rehearsals and festivals with children in San Diego and Tijuana. Ace violinist Joe Deninzon, who fronts his own prog rock band, Stratospheerius, plays in chamber orchestras for major acts like 50Cent and Bruce Springsteen, in addition to teaching at music camps; has done some internet-based one-man show remotely from home.

We're revamping our jobs. I'm looking at organizations and corporations that might need music to comfort people. I think we're learning new skills, and we have to figure out what the world is going to need from our artists.
Belinda Stohner
Some examples of the measures taken by Orchestra Miami for a concert on July 26, which was at an outdoor bandshell venue. Obviously, we couldn't have an audience since large gatherings are banned. Instead, it was live streamed online, and we hired an entire camera crew to capture it from multiple angles.

Musicians on stage were distanced and wearing face masks, with the exception of brass and woodwind players, who were surrounded by plexiglass. They've also been asked to experiment with putting some kind of covering around the openings of their instruments. String players, who typically share a music stand, each had their own.

The administration also arranged for our temperatures to be taken upon arrival. As you can imagine, this is way more work for them, but we are all determined to keep performing and finding innovative ways to entertain our audience.

As a freelance violinist, I imagine it'll be at least a year before I start performing at weddings again, which I did nearly every weekend before the pandemic. I've lost most of my private home students, the after school lessons at the school I taught at, and learned how to navigate the limitations of private classes over Skype.
Michael Mayo
COVID-19 has its positive and negative effects on the music industry. It really depends on where you are and what time frame you are looking at.

Music streaming has gone down (ironically) even though everyone's at home, whereas TV and film streaming has gone up. So, artists who have previously relied on performances and streaming music are suffering, but artists who were grounded by other media deals and other sources of music income have some leverage.

In theory, some would suggest that artists have smaller crowds in order to practice social distancing. However, that wouldn't be sustainable, and probably would even turn out less profitable.

This shows that the music industry, as a whole, is using an old formula to make things work for a new generation. The artists who are adapting to the changes and making new, fresh, and interesting ways to connect with the fans will be coming out of this either on top of without being scarred by the pandemic.

It's really beautiful, actually, seeing these new innovative ways that artists are connecting with fans. For example, we've gotten the Travis Scott concert on Fornite, which was a huge step toward how we view concerts even taking place. Only time will tell!
Mike Farley
I'm a publicist and do a lot of tour press. No artists are touring right now, so my business has taken a big hit. Artists are finding creative things to do to make money (live streams, patreon pages), but it's been pretty rough.

I have the advantage of doing new music promotion too, so I'm not completely shut down. However, booking agencies are struggling as well as venues, concert promoters — and of course, the artists.
Jamie Rodriguez
A music journalist and concert photographer based in Miami, FL
– My name is Jamie Rodriguez. I am a music journalist and concert photographer. I was on Miami radio station Y-100 in the mid-2000s as part of the morning show, and now I host a popular rock podcast in addition to my photojournalism work with South Florida publications such as the Miami New Times, Miami Music Magazine, and Palm Beach Post.

I have interviewed many folks in the live music industry since March, including Jake Berry (tour manager for U2 and Madonna), John Oates of Hall & Oates, Mary Wilson of The Supremes, Vampire Weekend and original MTV VJ Mark Goodman. I have found some interesting patterns and beliefs when it comes to the music industry and how it will change (or not), how it has adjusted, and more.

The number one factor, and a good place to start, is that the hunger for live music has not dissipated. Not one bit. In fact, early projections from secondary ticket outlets like StubHub and Viagogo show that prices may in fact INCREASE post-pandemic, because the demand for live music will be so high. If capacity is reduced, as some expect it will be in the medium-term, expect ticket prices to become higher than before.

The industry in the short term has adapted in a variety of ways. The two most popular being live-streamed concerts and drive-in shows. In the first example, I'm talking about ticketed live concert experiences, not the early pandemic live streams of artists in their homes.

From up and coming bands like the Foxies, to established acts like Willie Nelson and family, some artists are doing ticketed events (average price $20-$40 USD) where fans can expect grade-A production and a polished performance. The other way the industry adopted in the short-term is with drive-in concerts. First done in Europe in April, by June this made it to America.

Although not the typical economical haul of a standard tour, bands like Eli Young Band and Whiskey Meyers were able to sell 517 tickets for their June 7 Texas drive-in shows with ticket prices ranging from $80 to $300. The bands were able to gross $66,617.

The weaknesses have been the same weaknesses that any enclosed space has encountered with this unique virus: enclosed spaces, close proximity and inadequate hygiene in many venues and festivals. Expect limited attendance until a mass vaccination is available.
Samori Coles
– We are a full-service recording studio and audio engineering/music production school based in Philadelphia, PA with more than 20 years of experience in the music industry.

From our perspective, the music industry has changed immensely since the beginning of COVID. We had to close our doors for two months, which was very difficult for us. To pivot, we started offering online mixing and mastering services for artists.

They were recording their music at home and sending it over to us to mix and master. During the shutdown, we received calls almost every day from artists who wanted to come in and record. Once we reopened, we have been booked every single day.

Business is honestly better than it was before coronavirus. Since the live music industry is going to be shut down for the foreseeable future, artists seem to be focused on recording and releasing music.
Ian Wheeler
The vast majority of musicians make the majority of their income touring. The live music sector makes up about half of annual music industry revenue. With the live music sector at a TOTAL halt, plus with physical album sales drastically decreasing (since many record stores have been temporarily or permanently closed since March, and consumers hesitant to shop at physical retail), coronavirus has had a completely devastating impact on the music industry.

Further, independent venues and promoters don't have the cash reserves of the massive corporate promoters, and without government assistance, they will shut down permanently. The music industry will be permanently altered as a result of the pandemic.

To adjust to the pandemic, musicians and the industry were quick to put together "virtual shows." However, consumers' long-term appetite for those offerings still remains to be seen. The lack of dedicated spaces (eg: Netflix but for musicians' livestreams) make discovery a challenge.

There have been sporadic "drive-in" shows this summer, which are a unique experience that I believe consumers will look back on fondly. But promoters' margins rely on packing people into spaces, and without the ability to do that, it's impossible to achieve pre-pandemic revenue levels. This has and will continue to result in fewer jobs, and less choice for consumers and artists for the years to come.

The biggest weakness that has been exposed is that there's very little (if any) safety net for artists (and, by extension, they're touring personnel). And perhaps that's a broader indictment on the U.S. and the overall lack of a safety net for freelancers as well as lower- and middle-income individuals. In the music industry, and also more broadly, the pandemic has laid bare that the social safety net was not strong enough to begin with.

It's also exposed some areas where the industry has been lagging (i.e. on-demand streaming of live shows, music content and pay-per-view models). For years, some have suggested that a pay-per-view model of streaming artists' live shows could be a powerful additional income source. In fact, some artists, like Phish, have successfully implemented it, though it's still a foreign concept to the vast majority of music fans.

There have been a few bright spots, including quite a few memorable streaming moments. The fearlessness, and often selflessness, of artists releasing new albums knowing they may not have the opportunity to tour behind them for six or even 18 months, is incredible. As is the actions of smaller companies like Bandcamp that reflect empathy in the face of challenging times.
Summary
As with many parts of the global economy, those in the entertainment industry are being forced to be creative to pay the bills and keep a roof over their head. Looking ahead more broadly though, there will likely be lingering effects to the industry and consumer behaviors for a long time.

Artists and technicians who are able to innovate their services and offering, will be better positioned for long-term success. Just like every other business model, the pandemic is exposing the attitudes and traditional structures that are outdated and require change. Those who are willing to push the boundaries and force a reinvention stand with the greatest to gain.