COVID-19 has infected over 11,955,857 people worldwide and led to the deaths of 546,737 people by the beginning of July 8, 2020. In the United States, the death toll has reached 133,972 of the 3,097,084 people infected [1].
Amount of COVID-19 cases in each state
Due to social distancing and government mandated regulations to decrease the spread of the virus, many businesses have been closed or limited and people have been told to stay home unless necessary to do otherwise.

These measures have impacted the economy and led many people nationwide being furloughed and in some cases job termination.

As a result unemployment has spiked. In the beginning of 2020, the unemployment rate was 3.6% and rose to 4.4% in March as the virus began to spread. In one month, unemployment skyrocketed and peaked at 14.7% [2] which is the equivalent of 20.5 million jobs lost.

Along with this, the insured unemployment rate has steadily been increasing. Insured unemployment is typically 26 weeks of benefits provided on a state level for those who have found themselves unemployed during economic downturns and typically compensates for half of the wages the individuals are not receiving [3].
US Insured Unemployment Rate
The data represented in this graph is accurate as of June 15, 2020 and is updated as the US Bureau of Labor Statistics releases new information.

The continual increase of insured employment is due in part to many states having to prolong their preventive precautions with regards to social distancing and keeping businesses closed.

The data on insured employment shows the number of people currently receiving unemployment insurance as a percentage of the labor force. Reopening of businesses impacted the amount of people applying for unemployment benefits.

However, the time span of benefits available by state has also affected the unemployment claims as some states do not provide 26 weeks of unemployment benefits. Florida and North Carolina provide 12 weeks of unemployment with 6 weeks of extended benefits potentially available while Alabama provides 14 weeks of unemployment benefits with the possibility in some cases to extend for another 7 weeks.

From this, a correlation has been seen between cases of COVID-19 and the amount of people applying for gig work which can be assumed in order to find a source of income while businesses remain closed and benefits begin to taper off.
Correlation Analyzis of COVID-19 Cases and Number of People Applying for Gig Jobs in the US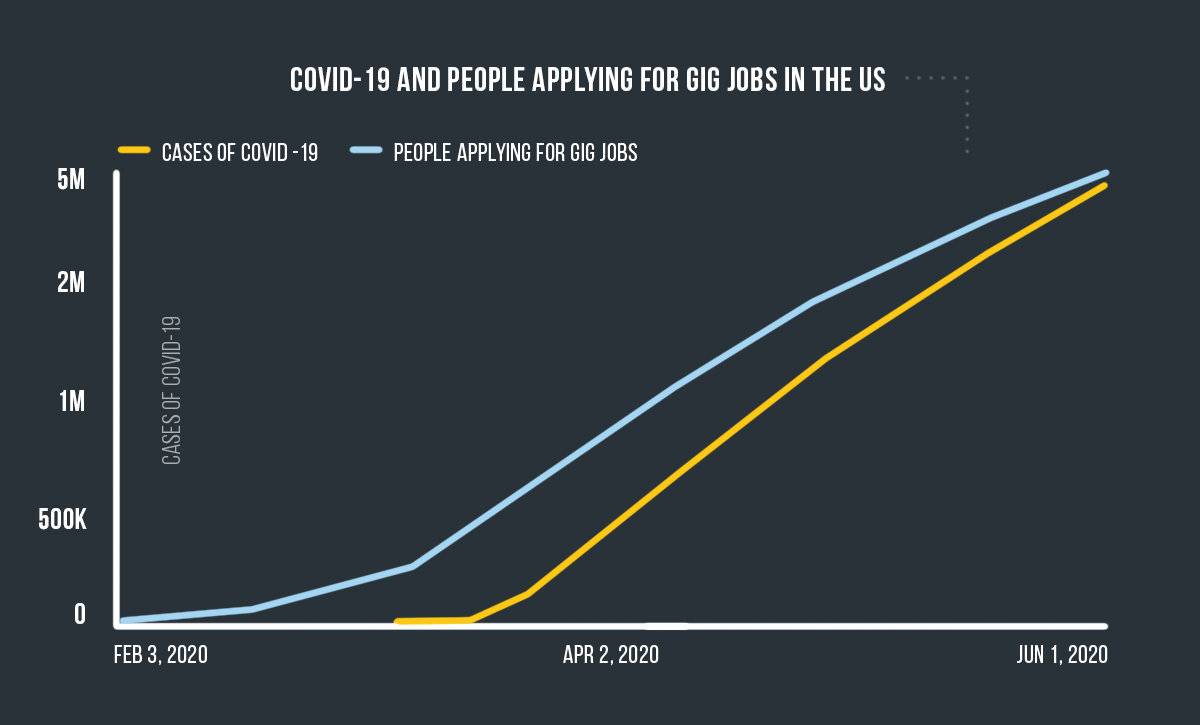 Unsurprisingly as well, there has been an increase in people applying for gig work through Appjobs and interest peaked around the time of the countrywide shutdowns and an increasing unemployment rate.

Although businesses are reopening, many are not at full capacity yet and remote work such as freelancing or work that is necessary to continue social practices such as restaurant delivery are gaining the attention of those looking for work.

While the interest in other work such as household work is remaining relatively low as the demand for housekeepers or babysitters has remained stunted due to social distancing measures.
Gig Job Applications in the US by Platform Category
Moving forward through this pandemic, although there is uncertainty in how the virus will continue to spread a few things can be anticipated. As many states are closely monitoring the coronavirus spread and reopening based on the rate of infection, it can be expected that states where the virus continues to surge will continue to have higher rates of unemployment.

For example, many states began to reopen businesses such as bars and restaurants but after a surge in COVID-19 positive test results, these states have had to undo their reopening measures. In Texas and Arizona, bars were ordered to be closed again on June 29, 2020 and Texas mandated restaurants had to revert back to only have 50% occupancy.

Along with this, states with continued social distancing measures can be expected to have residents continuing to apply for unemployment benefits as well as search for employment via online, at home platforms.

Although the number of job applicants peaked around when unemployment peaked, many are still seeking employment opportunities. It can be anticipated that the type of work they will look for while the states remain closed will be online jobs or jobs that are in high demand due to social distancing such as delivery jobs.
Changes in Gig Job Applications in the US ordered by State (%)
Not only has COVID-19 affected the economy but it has impacted regulations around immigration. On June 22, 2020 President Trump temporarily banned any new H-1B visa applications which are typically applied to skilled workers, foreign students on work-study programs, au pairs, as well as seasonal hospitality workers.

These might not be the only changes that are made as administration officials have also reported that President Trump wants to make permanent changes to more regulations to discourage competition with the American workforce.

This is on the heels of an executive order signed in April which suspended issuance of green cards for 60 days [5]. These moves have been made to both discourage foreign visitors or workers in an attempt to flatten the curve as well as to rebuild the economy after the virus imposed recession.
100 years overview of the United States economy
Throughout the last 100 years, the United State's economy and unemployment rate has gone through highs and lows due to pandemics, wars, oil and energy crises, housing and stock market crashes as well as new technology.

The natural level of unemployment is typically between 3.5% and 4.5% and the government steps in to help once unemployment climbs above 6%[6].
Unemployment in the U.S. History
Unemployment 1921- 2020
In 1921, the United States sled into an economic recession or coined "Depression" as a result of World War I which ended in 1918 and similar to the COVID-19 pandemic, the Spanish Flu which killed 675,000 people in the United States (nearly 0.8 percent of the 1910 population) and 40 million people worldwide [7].