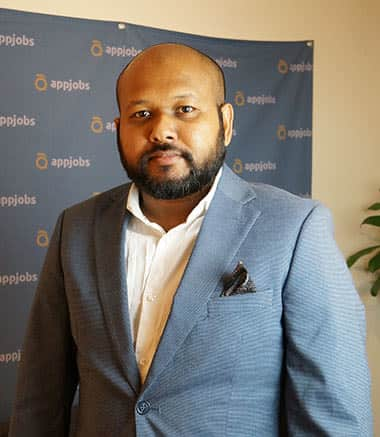 Tharka, from Sri Lanka, is an experienced on-demand driver who is now on his way to become an entrepreneur in Sweden.
There are many apps you can make money with in the world. Some people become so good at it that they end up building their own businesses after some years of experience. This is the case with Tarka. He is 33 years old and is now building his own taxi company after driving with Uber and Heetch in Sweden.
How did you start driving?
I came to Sweden when I was 14 years old with my parents. In 2015, I started driving with Uber Pool. It was fun to drive and make money. Then I became a Uber X driver-partner, then I drove for one year with them. After some months I worked with Heetch.
Did you drive with Uber and Heetch at the same time?
Yes, they are both good for different reasons. Heetch is good for the weekends, Uber is good for daytime. It's very easy to make money because I decide what time I want to work, no one says what I must do.
And how does life look like now?
Today I am trying to build up my own company. Right now I have 4 cars and one more is on the way. I have 9 people working for me. It will maybe be called KISS.
That's amazing! Tell us more about it.
I think many drivers need help and I try to give jobs for as many people as possible. I want them to have a good job and feel better about their jobs. I give higher salaries, there is a company that washes the cars for them, they get a health cover, they get a gym card. Many drivers drive like ten hours a day and it's very important that they have good health. Also, I don't give so many rules to them. For example, you can't use the car for personal things. It is much easier when they have their own car and use it for the private stuff too. Even if people don't have a taxi license I help them. I pay for the exam and the course.
Any stories from your time as a driver?
Not much, Swedish people are kind of boring. They don't speak so much. When I met tourists then I got some fun. I explained about Stockholm and they were happy to hear.
What is the best thing about being an on-demand driver?
Even if you drive Heetch you must have a taxi license. And if you have a taxi license you never get jobless. You always have a job if you are a taxi driver. And if you like to work you can make more money. It's very easy money.
Start working today!
Be a driver in the US
All driver apps in Miami, Detroit, Washington D.C, Philadelphia Houston, Portland, Los Angeles, Chicago.
Visit Appjobs to check more driving opportunities available in the US!
Be a driver in Europe
All driver apps in Stockholm, Paris, Brussels, Barcelona, Berlin.
Visit Appjobs to check more driving opportunities available in Europe!
Be a driver in Canada
All driver apps in Toronto, Ottawa,Montréal, Calgary.
Be a driver in Australia
All driver apps in Sydney, Perth, Brisbane, Melbourne.
Be a driver in anywhere in the world!
All driver apps in Mexico City, Hong Kong, Cape Town, Sao Paulo. Visit Appjobs to check more driving opportunities available worldwide!