If you are wondering how to live greener, you are amongst the many people that have decided to live a more eco-friendly and sustainable life. However, it must be mentioned that many of the actions taken by them are not necessarily new to everyone. They have been a common practice among Indigenous communities and low-income families among others. What is happening now is that they are entering the mainstream. Hopefully, they will last and become more than just trends that excite people for some time. You should know that changing your lifestyle and the way you work, maybe just a tiny bit, not only helps the environment but also helps you keep your wallet heavy. Going green can save you money!
How to live greener and be more eco-friendly in 2021
17 tips on how to live an environmentally friendly life
17 ways of engaging in eco-friendly jobs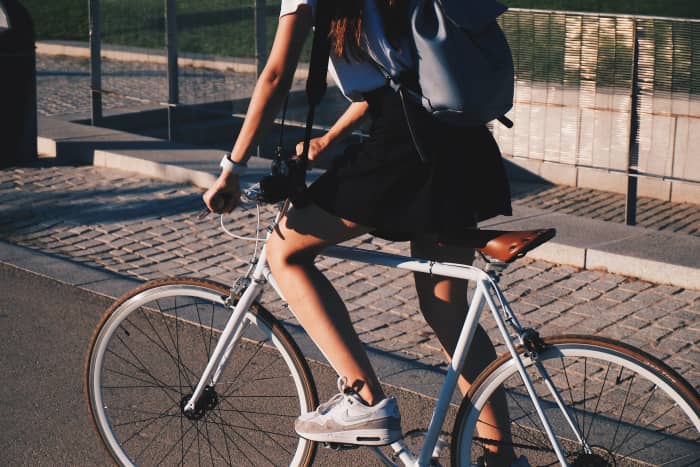 Ride your bike more! This is a simple answer to the question of how to be environmentally friendly, isn't it?
Photo by Murillo de Paula on Unsplash.
17 tips on how to live greener
Going green doesn't have to be difficult or expensive. You can adjust your lifestyle as much as you can and want to live a more environmentally friendly life. You don't have to be rich to do something for the Earth. Every small step matters and can encourage others to get rid of old habits that somehow contribute to climate change.
1. Support Indigenous communities
It's no coincidence this ranks top on the list. The livelihood of Indigenous communities—and underprivileged/marginalized communities worldwide—is affected the most, if not even endangered, by climate change and its consequences. Think about the melting ice near the Arctic Circle or the deforestation of the Amazon rainforest, for example. By listening to these communities, you can be sure you've helped the Earth.
2. Educate yourself on environmental issues
You can find numerous sources of information online about climate change and related issues. Follow climate scientists and researchers, and journalists covering climate and environmental issues on Twitter, Facebook, Instagram, and other social media channels. We would assume that plenty of texts, infographics, and videos are shared online that explain climate change in a simple way, and they can give you essential information and great recommendations about how to be environmentally friendly.
3. Assess your life and needs
Before you turn your life upside down, do some assessment. You can go through your habits one by one and find out how those may affect our ecosystem. Consider also your needs and budget. You maybe cannot afford to replace or adjust all your bad habits. If it helps, write a list. Nobody expects you to do something that is out of your reach, and you should not feel bad about it.
4. Choose an eco-friendly way of commuting
You drive your car to work every day, but could you ride your bike or take the bus/train instead? In many US cities, transit challenge commuters. But so do traffic jams. If you have the possibility to leave your vehicle at home and get to work in a more eco-friendly way, do that. Even if you can't wait for the bus every day, maybe once or twice a month, you can opt for using transit.
Additional idea:
If you fly a lot, especially when going on vacation, you can try and decrease the number of flights taken a year. You can spend your days off in another (part of the) state or country, supporting also local tourism businesses.
5. Repair your stuff
You don't have to buy a new washing machine or dishwasher immediately if the old one breaks down. Yes, sometimes it costs more to hire a handyman than buy a new one, but it's worth request a few quotes. It's better to purchase quality products that last long. Not always the most expensive product is the best one, though. For you to avoid spending thousands on repair costs, take care of your items. Maintain them. Plenty of videos are published on YouTube daily, for example, to show ordinary people like you how to keep your vacuum cleaner, oven, and other devices in good shape.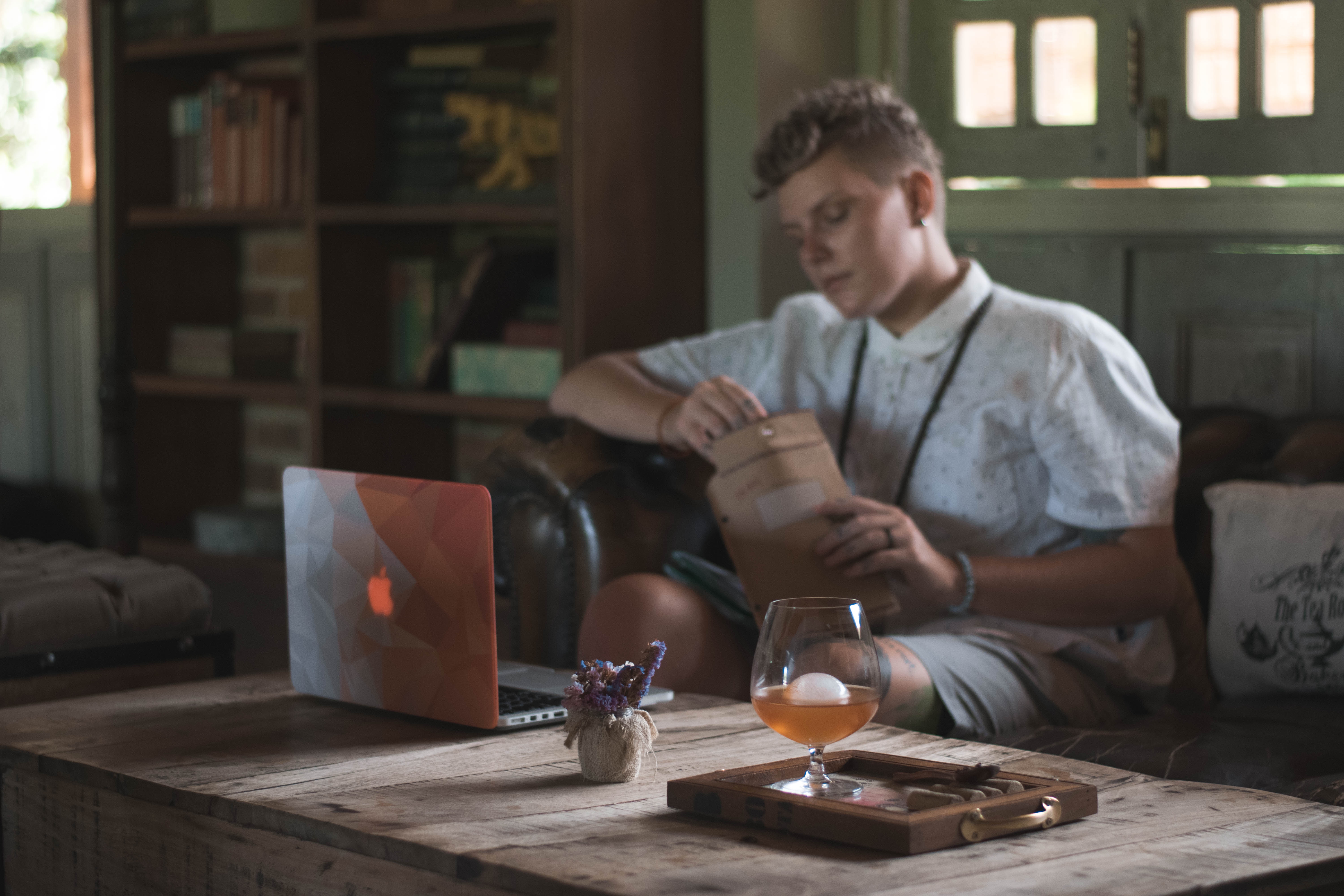 Photo by Trinity Treft on Unsplash.
6. Recycle and upcycle
Even if you can't fix things, you don't have to throw them away if they don't work properly anymore. Give them another life! A ragged T-shirt can find its way into your cleaning cupboards as a piece of wiping cloth. If you can use a sewing machine, your partner's pair of jeans may survive as your new skirt. Besides recycling, the Internet can show you several tutorial videos of how to transform by-products and waste materials into something new and usable.(This is called upcycling.) In other words, you go green and save money.
7. Exchange goods with others
Your history teacher must have elaborated on how people were exchanging goods centuries ago—before money (coins) were invented. Those participating in the exchange had something to offer to the other person. Why not go back to this tradition and use your skills to get something you need?
For example, you may enjoy baking bread or grow vegetables and use soap bars when bathing? Find someone who makes soap and make a deal with them. If you feel that it's too much for you to talk to strangers online or at special events, ask around in your social circle. Some of your friends may secretly craft something in their free time. Think of services as well!
8. Create a budget and buy less or second-hand
We can't stress enough that budget matters when considering how to live a greener life. Those who live a lavish lifestyle can change their lives in a way more noticeable way than someone on a tight budget. Regardless of how much money you've got, you can set up a budget for the future. Let's say you put aside a certain amount of money every month and try to spend only that.
To reduce your expenses, it's worth buying things second-hand: furniture, clothes, perhaps even shoes. Visit thrift shops and vintage shops. We must say that vintage shops sometimes sell lots of overpriced products. Yet one of our colleagues could tell you many good things about thrift shops. It's a win-win for everyone. You get cheaper stuff, a few people are employed, and the money goes to a charity.
One thing, though: try to avoid hoarding things just because they cost almost nothing.
9. Eat locally and seasonally
Many people change their diet completely and go vegetarian or vegan due to the immense amount of water used when processing meat. You might have no intention or may not have the capacity to do this. It's okay. To eat environmentally friendly, reduce your meat consumption and purchase seasonal food locally. We bet there are some farmers' markets in your hometown.
Who knows, you may grow some fruit and vegetables in your own garden. If you live in an apartment, consider joining a community garden. You can either rent or buy a plot and water your own plants and trees. This could make you more self-sufficient. Not to mention, whenever someone asks you how to be environmentally friendly, you can persuade them to look for an available plot.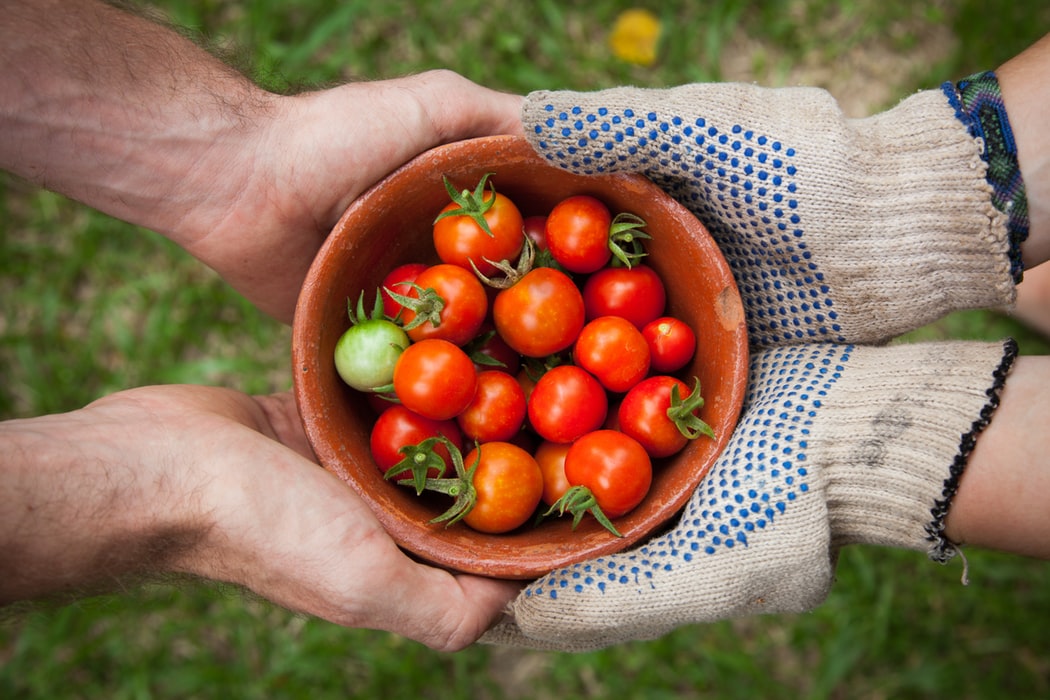 Tell your neighbor to come over and take home some of your vegetables grown in your garden.
Photo by Elaine Casap on Unsplash.
10. Don't waste food
Do you often buy so much food that some of it ends up in the trash? If you can't make your own compost or your building doesn't collect food waste, you need another strategy about how to reduce food waste.
So what you can do?
Whether or not you have recipes in mind, always write a shopping list.
If there is leftover, pack it for lunch or dinner. (Use reusable containers.)
Is the product expired? Taste it. Expiration dates don't necessarily show the exact date when the product goes bad.
Find recipes for which you can add your overripe bananas, stale bread, etc. You can make breadcrumbs from your bread, for example.
What else can you think of?
11. Save water and electricity
For starters, you should stop taking long showers. If you can pay for a low-flow showerhead, buy one. If you can't, just spend less time in the bathroom. Are you lucky enough to own a washing machine or a dishwasher? Only start them when they're full. And drink tap water instead of bottled one, if possible.
When it comes to electricity, always switch off your devices when not using them. Buy a few plug outlet adapters with on/off switch. Those should not be so expensive.
12. Avoid single-use plastic
Not all types of plastic can be recycled. It's not your fault that you have no idea which of the seven categories of plastic should be put into the recycling bin. Did you actually know that there are seven types of plastic? It's totally fine. Now you know. So, if you drink a lot of coffee and you don't make it home, carry a reusable mug. You'll surely find some companies that produce them—online or in your city.
13. Use cloth products whenever you can
When doing your shopping, take your own cloth (tote) bags. You don't need a plastic bag for fruits and vegetables either. We recommend you to visit package-free shops. We know a few people who have ordered some special cloth bags online to carry food in them. Another solution would be to take your glass jars with you. Some supermarkets have stopped offering free plastic bags, so using your own bags means you go green and save money.
14. Visit your local library
Do you love books? We totally get it. Yet if you want to be a little bit more environmentally friendly, it's time to get a library card. Public libraries don't charge people and even provide them with the opportunity to hang out and study there. It may take some time for your local library to purchase the newest books, but they must own hundreds of others. Read some classic novels while waiting for your favorite contemporary authors' latest work.
What's more, libraries tend to offer a great collection of films, archival footage, and children's literature. So you could also teach your children about the importance of libraries and the planet simultaneously. How about that?

Photo by Devon Divine on Unsplash.
15. Support ecologically and socially conscious companies
We've discussed thrift shops, remember? Apart from them, you can search for other companies that use environmentally friendly processes to produce eco-friendly services and products or services. In recent years, we've seen a boom of social enterprises and fair trade companies, for example. Do some research, and know how and where products are made.
What else to keep in mind?
Not all companies that have adopted environmentally friendly processes sell eco-friendly products and services.
16. Open a digital bank account
Do you know what digital banks are? Well, they don't open offices but operate exclusively online. You'll receive a bank card or a debit card as usual, and that's not all. For example, Revolut allows you to have various accounts, one for USD, one for EUR, one for GBP, etc., and the exchange rates are better. With some limitations as an unpaid member, you can exchange, transfer and withdraw some money on a daily basis for free. To get started, you need to pay for your physical cards, you'll get the virtual one for free.
17. Support for more environmentally friendly policies and laws
You've made it the end of our first list. Bravo! Our last tip on how to be environmentally friendly is to encourage policy- and lawmakers to introduce and approve eco-friendly bills.
17 ways of engaging in eco-friendly jobs
If you manage to cultivate a couple of green(er) habits in your private life, that's already a victory. Now let's look at the type of eco-friendly jobs you can take up—alongside your studies or main occupation. They differ in terms of requirements and the industry and sector they belong to. This means everyone can find something that suits them best. If not in the traditional economy but in the sharing economy.
1. Work for companies that care about the planet
As we've briefly touched upon this issue, not all organizations operate eco-friendly and/or produce eco-friendly services or products. Yet many NGOs focus their work on the environment or related issues. If you don't know what exactly you want to do, go to volunteer recruitment meetings to learn about a few organizations. Would you rather stay in the for-profit sector? Do your homework on the company: read its mission, vision, who its sponsors/supporters are, who the team members are, etc.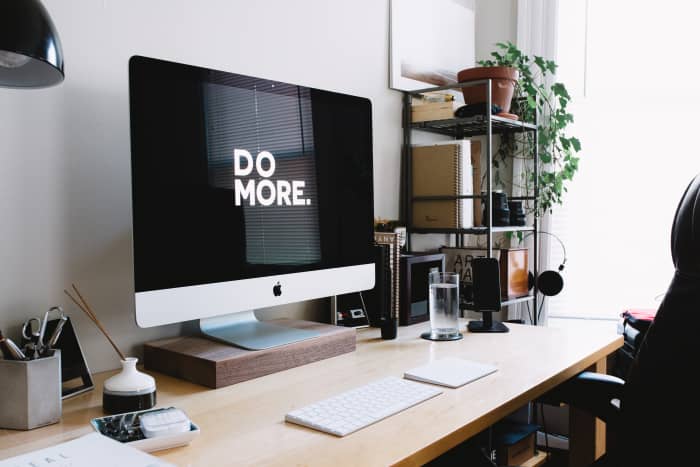 Invest time in finding an eco-friendly job, and then help others too.
Photo by Carl Heyerdahl on Unsplash.
2. Give your items a new life and sell them
Do you consider yourself creative and can you make things by hand? Not only recycle or upcycle your old and/or broken things but also try to sell them. Etsy is a great platform to sell all kinds of crafts: from clothes to decorative objects. Need some ideas? Check out DIY videos on YouTube!
What about this blog post? Do you have some time to read it?
3 Ideas for Stay-At-Home Moms and Dads to Start Making Money
3. Sell your unused stuff
If you don't have any talent to create things, sell the items you don't need anymore. Numerous websites have been launched to connect sellers and buyers. Apart from eBay, you can publish an advert on Vinted, Letgo, or OfferUp. The former specializes in clothes, the latter two allow you to sell almost anything you want. Check the rules!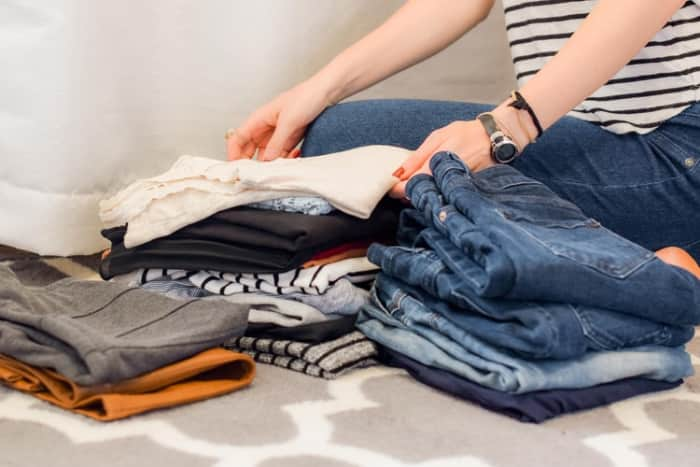 Photo by Sarah Brown on Unsplash.
4. Become a home chef and reduce food waste
If you struggle to reduce food waste alone, let others help you. You will empty your fridge and make some extra money at the same time. How? Start inviting people over and serve them some food—with the help of Meal Sharing, Mamaz Social Food or EatWith. As a home chef, you may even skip this part and sell the extra portions as a kind of takeout meals.
More about home chef jobs!
What Is It Like to Work As a Home Chef? A Gastronaut Chef From Sweden Answers!
5. Work as a tour guide and support local tourism
Another type of eco-friendly jobs in the sharing economy is local guiding. You may think your hometown has nothing to offer—to either tourists or locals. But is this really the case? Maybe you've just forgotten about the hidden gems in your city? As a local guide with Pick Your Day, U2GUIDE, GuruWalk, ToursByLocals or Dabble, you can design and lead tours inspired by architecture, food, fine, sports, music, films, etc. An exciting tour may convince several people from neighboring cities to take the train or bus, come over and vacation in your city. So long as zero-emission planes aren't replaced by fuel-powered planes, public transport will always be considered the more environmentally friendly option.

Photo by Kévin Langlais on Unsplash.
6. Carpool with your neighbors
If the transit system in your city would turn your commute into a nightmare, try carpooling. You could make money by helping others. There must be other people living in the suburbs who need to get to work by 9 a.m. sharp in the morning. You could take turns, there would be fewer cars on the roads, and you would never pay for gas. Read about Waze!
You may find this interesting too:
10 ways to turn your car into a money-making machine
7. Transport a bunch of people
Uber and Lyft allow you to drive more people in town as their routes are overlapping. It's a bit similar to carpooling, but in this case you won't be able to plan the exact routes.
8. Rent out your unused your items
Renting your clothes, electronic devices, outdoor tools and equipment can bring you some extra cash. We live in a consumer society where production seemingly can't be stopped. You can lower the demand for new products by sharing yours you don't use so often. Your neighbor doesn't have to buy a cordless drill just to fix some shelves one time. Post an ad on Zilok, Rentcharlie, Fat Llama, or Surfy Nomads.
Check out what the funniest things others are listing on Rentcharlie!
9. Share your parking spot with others
Do you own a parking spot that remains empty throughout the year? Why not rent it out? This way there would be no need to build more parking lots in your city. So many green areas vanish in cities because of the immense use of cars. Your parking space does matter, so rent it out with SpotHero and SPOT, or Pavemint if you can.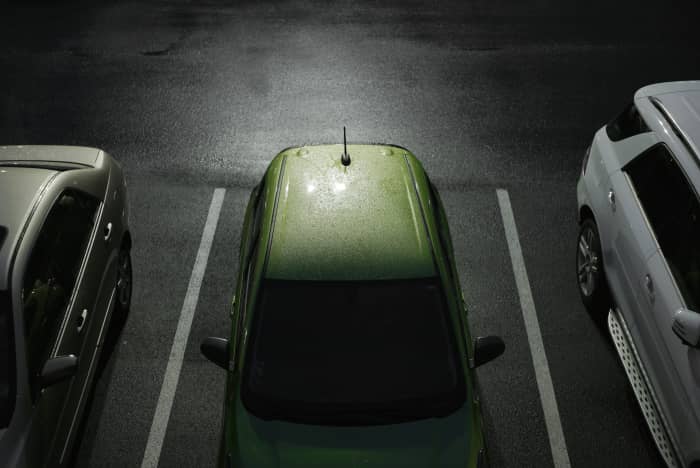 Photo by Mitchell Griest on Unsplash.
10. Rent out your empty space
Now and then people need to store some things somewhere. Maybe they're about to move to another city or country and can't take everything with them. So they look for a storage unit. Perhaps yours that has been empty for years would be perfect for them. It's a win for you, your clients, and the planet as well. Rent out yours via Spacer. You'll be making money by helping others.
11. Consider earning money with home rentals
Have you ever spent a few nights in a hotel? Were your towels washed every day? Imagine how much water a hotel would use if every guest in the hotel throws the towel on the floor every day. Fortunately, several hotels address this issue, yet in a home rental guests can practice more green(er) habits.
If your home is fully equipped with recycling bins, low-flow showerheads, maybe even with a bidet to reduce the use of toilet paper, you could advertise your home as a "green home." You'll most likely attract travelers who also care about the planet a lot. Platforms such as Airbnb, HomeAway, FlipKey, Homestay, VRBO, or 9flats are home-rental sites you can create an account on, and host as many people as you wish. Nonetheless, you should be up-to-date about the latest rules and regulations introduced regarding short-term rentals in your city.
Read this to learn more about home rental!
12 Platforms Besides Airbnb to Rent Out Your Empty Space
12. Think of making money with vehicle rental
Some may argue that it's better for the environment if your car stays on the driveway. That's a valid point. However, if more people started sharing their vehicles, probably fewer cars would leave the car dealer's premises each year, which could lead to less CO2 emission. With Getaround and Turo, you can connect with vetted drivers who need a vehicle urgently to run some errands or arrive in your city for the holidays. Do you ride a motorcycle? Check out Riders Share!
Here comes more info:
Everything You Need to Know about Renting Out Your Car
13. Deliver packages by bike
On-demand delivery service apps diversify the gig economy. Many of them encourage delivery drivers to ride their bikes when completing deliveries. And many environmentalists ride their bike to get from A to B. If you love to cycle and don't mind carrying packages on your back a few hours a day, try Postmates. If you've got a bigger vehicle, you may increase CO2 emissions by signing up for Roadie and deliver packages along your route. There would be no need to send another car since you would be already headed to the drop-off location anyway.
More info on Postmates:
How to Make the Most Money Working for Postmates
14. Deliver food by bike
Not a fan of heavy packages? Sign up for DoorDash or Caviar and deliver tasty meals instead. You would not only go green and save money but also spare money on a gym membership. Cycling is a great cardio exercise.
Read more
15. Complete surveys and donate your money
At first sight, responding surveys doesn't share any characteristics with green jobs. We'd still group with them because of two reasons. Firstly, you would simply taking surveys in your home, so you wouldn't need your car. Secondly, you could make money helping others by donating the money you earn to environmental issues. Find out more information on Hiving, Survey Junkie, Surveys on the Go, and even UserTesting!
Read this post as well!
Asking the Question 'How to Start Making Money Online?' Here Comes Your Answer!
16. Share your knowledge and raise awareness
You could also reduce your carbon footprint by teaching remotely. At the same time, you could contribute to the professional development of another human. If not offering in-person lessons with Preply, Lingoda, Savvy, Qkids or College Nannies + Tutors, why not design a communication course on how to live greener on Udemy to help both NGOs and individuals better communicate their work related to environmental issues.
Read these posts too!
17. Work remotely
We'd like to finish our list of eco-friendly jobs with remote work, which has gained popularity lately. Even if you usually work in an office, you could maybe ask for permission to work from home office once or twice a week. You would not commute and have time to eat your leftovers at home. As a freelancer doing your assignment in your home, you would make your own rules—develop and keep your green habits probably more easily. (Affiliate marketing jobs are also remote jobs.)
Start working remotely
Read more about freelancing!