Founded in 2015, Stuart is a fairly new player in the delivery scene, but it already has a presence in 40 cities and it is constantly growing, occupying 164 employees, as we speak. One of its core values is to "revolutionise how goods are transported around major urban centres in an environmentally friendly way…"
With its fleet of independent couriers, Stuart offers the opportunity to merchants to offer their customers same-hour delivery. So if you live in London and are looking for a flexible and profitable job, you don't want to miss Stuart!
If you are a fan of the flexibility and independence that the gig economy offers, and are always looking for new challenges, Stuart might be the perfect option for you. You can cruise around London on your bike, car or scooter, delivering food, flowers, gifts, and all kinds of parcels across the city. Simple as that!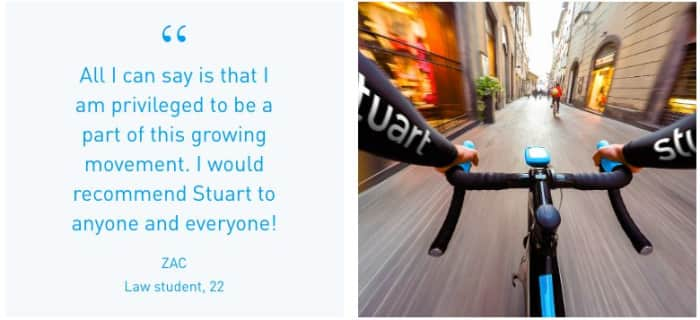 Image by Stuart.
Stuart makes everything extremely simple for deliverers in London!
After confirming a delivery, you will have to travel to the pick up location to collect the item and drop it off at its destination. That's all! You will be able to track the whole process on your phone and manage new orders if you want to continue delivering. There is no commitment or schedule, so you can work at your own pace! And it's a great way to get to know new places in London if you are the explorer type! We bet that's one perk of the job you haven't thought of.
There are 4 very good reasons why you should join Stuart in London today and start making money!
1. Unemployed or NOT
Looking for a job and feeling desperate? We've all been there. Maybe you're feeling stuck in your job search or you're looking for a career change and want to explore different options? Or you just enjoy being able to set your own schedule and make money while biking around London? If you've answered yes to at least one of the questions, then Stuart is the perfect job opportunity for you!
And who knows – maybe you'll even turn your side gig into your main job?
2. Timing & Flexibility
Commitment is a scary word. What if you could take control of how much you worked and got paid?
Imagine designing your daily schedule based on your needs. No promises to anyone. No commitments. That's what makes Stuart unique. You can sign up to work right away and there are no contracts or time commitments.
If you are busy on the weekend, you don't have to deliver! You take charge by signing into the app, not a boss or a manager. Or anyone.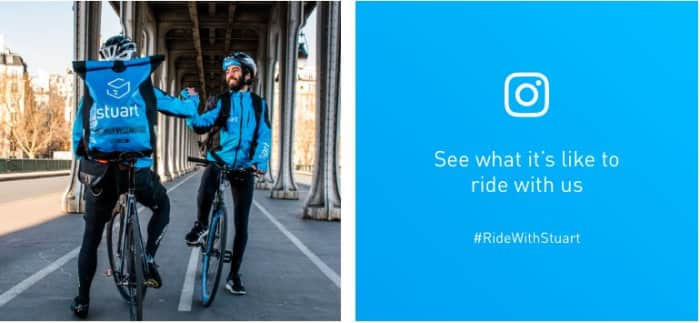 Image by Stuart.
3. Demand & Supply
London is one of the best places in the world to take up any job. Delivery jobs, on the other hand, are on top the list! London's take-out food scene has grown significantly since all kinds of food delivery platforms have launched in the city and the same goes for deliveries of various goods. People are getting pampered and impatient! They want their stuff NOW!
What does this mean for you? Simply put, it means that you will never run out of deliveries to complete, whenever you want to work! Are you not a morning person? That's not a problem, there are plenty of deliveries to be made around dinner time!
4. Growing Together
Call it moving forward, expanding or growing together, the gig economy's path is a long one and filled with challenges, too. It's a new way of working and a new type of employment.
That's why perhaps it's best to see all the good that Stuart brings to a vibrant city like London and how it helps Londoners take one step forward into the future.
And by this, we mean the future of employment.